Bisnis.com, JAKARTA - Hilmi Panigoro, brother of the late Arifin Panigoro and the President Director of Medco Energy (IDX: MEDC) just took an unusual move. Hilmi indirectly bought Medco shares through a new business entity, PT Kalibiru Lestari Bersama (KLB).
The alien company appeared in the Medco shareholder report structure on the last day of October. They purchased 659.95 million Medco shares (2,62 per cent ownership). According to a document obtained by Bisnis, KLB purchased shares with a premium price of approximately IDR 1,046.84 per share. This means that the total capital disbursed by this entity has reached IDR 690 billion.
Per this article released on Friday (11/11/2022), Medco shares were already at a market price of IDR 1,160 per share. This position has made KLB's ownership value in Medco grow to IDR 765.55 billion. In other words, the company only need 11 days to record IDR 74.68 billion floating profit.
According to our research, KLB is a relatively new company. This entity was only registered at the Ministry of Law and Human Rights as a legal entity in 2020. There are only two names of shareholders in the company, namely Hlmi Panigoro and his son M Ihsan. Hilmi serves as a director of the entity with a 99.9 per cent ownership proportion. Meanwhile, Ihsan, whose ownership is only 0.1 per cent, is registered as the company's commissioner.
Today, KLB is legally registered by Hilmi as an entity engaged in asset management, aka a holding company. Its activities include advisory and negotiating services in corporate mergers and acquisitions. KLB also received a permit to manage the assets of a subsidiary company but did not involve itself in managing them.
Apart from going through the KLB, Hilmi, who weaned from Medco as a boss in 1998, already owns MEDC shares in his name. However, per today, the number of claims under private terms is small, only 24.81 million shares (0.09 per cent).
Meanwhile, Medco is controlled by PT Medco Daya Abadi Lestari, which has 51.5 per cent of ownership. This company is also a Panigoro breed entity owned by Arifin Panigoro. Arifin passed away on February 28, 2022.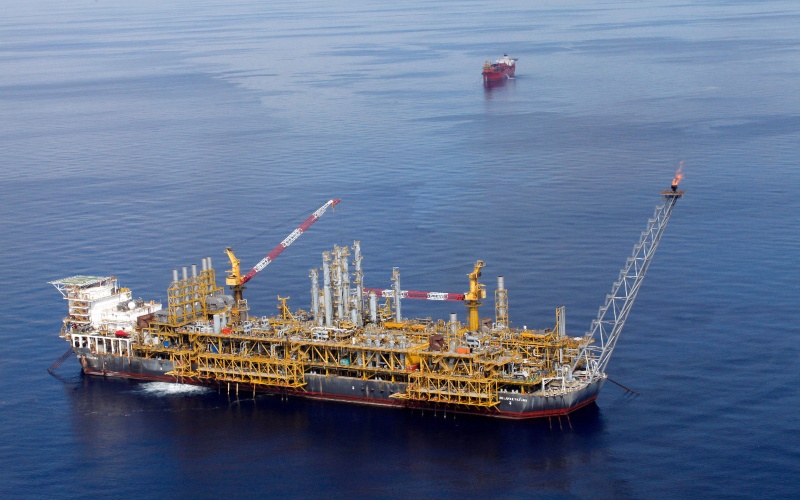 Fasilitas produksi dan penyimpanan terapung (Floating Production Storage and Offloading/FPSO) Belanak di South Natuna Sea Block B yang dikelola Medco E&P Natuna (MEPN). Istimewa/SKK Migas.
Arifin's death has confused the future of the company's management. Moreover, there is a partnership with other conglomerates like Anthony Salim in the corporate structure.
The Salim Group boss indirectly holds MEDC shares through Diamond Bridge Pte Limited. According to market news, this shell company results from a partnership between Salim and the Panigoro Family. The Salim Group, with a portion that is still confusing, also holds a part of the shares of Amman Minerals, one of MEDC's subsidiaries.
In mid-July, MEDC's management guaranteed public investors that Medco Daya Abadi Lestari would remain committed to becoming the controller. There are no plans to transition the helm's control to other conglomerates, according to the letter sent by Medco Director Anthony R Mathias/
"There is no impact of these material events, information or facts on the operational activities, law, financial condition or business continuity of the issuer [MEDC]," Mathias explained.
Despite the movements and tugs in Medco's ownership structure, the oil and gas company is becoming the centre of attention because of its attractiveness. Medco's current share price has strengthened 148.9 per cent year-to-date (YTD). To be precise, from IDR 466 to IDR 1,160 per share.
Analysts also concisely pinned a positive rating for the company's business prospects. In the Bloomberg consensus as of Friday (11/11), 10 out of 10 analysts covering Medco shares (100 per cent) pinned a buy recommendation.
According to consensus, the average target price for Medco shares is IDR 1,290.
Regarding business performance, Medco posted revenue of US$1.14 billion (equivalent to IDR 16.74 trillion, an exchange rate of IDR 14,600) in the semester I/2022. This figure illustrates a year-on-year (YoY) growth of 80.34 per cent from a report card of US$636.29 million.
Along with the increase in revenue, net profit for the period entity also exceeded US$270.1 million (equivalent to Rp.3.94 trillion), a rise of 482.11 per cent from US$46.48 million.
Medco's financial performance is inseparable from the relatively solid price of oil in the first half of this year. In its financial report, Medco disclosed that the average selling price of oil for the first semester was US$104.4/bbl. Meanwhile, the average selling price for the gas commodity is US$7.7 per MMBtu.
----
Disclaimer: This article is an english translation from "Kendaraan Baru Trah Panigoro di Medco Energy (MEDC)." You can read the original version in Bahasa Indonesia by visiting this link.
Cek Berita dan Artikel yang lain di Google News